A Look at Past Collections
For those of you that are not familiar with my brand, or for anyone that would like to get reacquainted with all of the colors, below is a look back at some of my favorite shots from past collections, including a few outtakes. We have absolutely zero fun at these shoots!
Spring 2011. My first collection. I WAS SO SCARED! So much work went into this first go around. A mere four months after first deciding to move forward down the path of starting my own line I had samples in hand. I don't remember sleeping...ever! I compiled a list of buyers at 300 boutiques from coast to coast and mailed them all look books. Out of those 300 (and many follow up calls) I heard back from 7 interested shops. It was worth the work; I was able to fund my next collection.
This is sweet Yara, a dear friend who has modeled for big hitters like Louis Vuitton, and graciously gave me her time and talent pro bono for my first ever photo shoot in Miami. This image above was the cover of my first lookbook for Spring 2011. Isn't she a beauty?!
My production was in Bali for my first two collections, Spring 2011 and Spring 2012. Every fabric was hand woven and the process of selecting colors was as fun as it sounds! I traveled there in 2011 - what an experience. Take a look at my post on traveling to Bali here.
Spring 2012 was special to me as once I went to Bali and saw with my own eyes what was possible, I was able to take design up a notch. I learned about embroidery and the beauty simple lines in an intricate pattern can add. The Georgina dress, below, will always be a favorite! I also went from street market to street market to source Songket, a gorgeous fabric that I used for clutches and totes.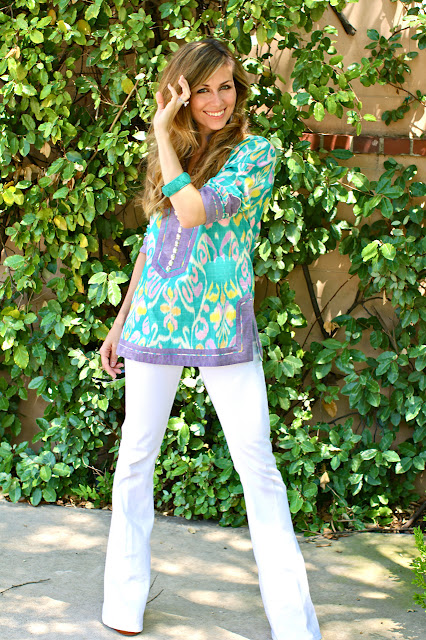 For Spring 2013 I moved production to India and shifted to printed fabrics rather than woven, incorporating both cotton and silk. As my company grew, it was no longer sustainable to have all of the fabrics hand woven. I could not meet demand, and Bali also presented unforeseen weather challenges. If a tropical storm came through, the air was too wet for the fabric dye to dry, and production schedule was instantly delayed by 4 weeks. This was a very hard position to be in with retailers and customers...no one cared about tropical storms, everyone just wanted their clothing! ;)
Switching production to India was hard work but well worth it. The skills the Indians possess when it comes to embellishing items is truly unsurpassed. I traveled to India in 2013 and had the most wonderful time scouring markets for different beads and thread colors and fabric binding. There was inspiration everywhere! The best part for me was to be able to meet and get to know all of the workers who hand-embellished my clothing. They are the most amazing people with the BEST and brightest smiles. Can't wait to go back again!
The photograph above was taken at a photoshoot for the online publication, Matchbook Magazine, in 2013. That 9 month old is now nearly six! I had run my first 50k ultra marathon the day before and I am wearing compression leggings underneath that skirt. Ha!
This spring collection was not only by far my favorite to date, it was my largest. Tunics and tunic dresses were still staples, but I added in strapless dresses, shift dresses, maxi dresses, button down shirts, pants and varying styles of swim coverups. My aim was to have something that worked for every taste and body type.
Oh fall...fall was such a fun shoot. This is a friend's grandmother's house that she graciously opened up to us for a full day of shooting. We worked fast and got some beautiful shots! The bead work on the clothing was very intricate and breathtaking, particularly on the ballgowns. I tested my hand at jewelry this season as well, which my daughter loved. She was an excellent model if I do say so myself.
This was the final shot of the day. We were exhausted. It was late. But my little girl was doused in jewelry (how creative and chic to tie necklaces around her head?! #props) and I had to get her in a shot. I think she looks like a little porcelain doll <3 I cannot wait until our next shoot...only had to wait five years! WORTH IT. xxSF.